Are you looking for a hotel near the Palau de la Música in Barcelona? Imagine waking up every day during your holidays in Barcelona, going out to visit the city and coming face to face with one of the most beautiful and historic buildings in the city. Don't you think that this would be your ideal accommodation? Well, we have good news, at Musik Boutique Hotel we can make your wishes come true.
Our hotel is located very close to the Palau de la Música Catalana, a key building to get to know Barcelona and in our rooms you will feel at home. We present it to you!
Hotel near Palau de la Música
Our hotel next to the Palau de la Música has become one of the favourite options for travellers who want to stay in the heart of the city, so as not to miss out on anything. This building is famous for its impressive modernist architecture, with a façade decorated with stained glass, mosaics and sculptures. If you are looking for a hotel in the Born to be close to this architectural marvel, which was designed by Lluís Domènech i Montaner, don't hesitate to check out our Musik Boutique Hotel website.
Some room options at Musik Boutique Hotel
A musical experience next to the Palau
A deluxe post-concert experience
The Deluxe Room is more spacious and features elegant, modern décor. It is equipped with a king-size bed, private bathroom with luxury toiletries, air conditioning, flat-screen TV and minibar. Some of the Deluxe Rooms also feature a private balcony with city views.
Unleash your musical side
The Standard Room features a modern and elegant décor, with carefully selected furniture and design details. The room is equipped with one king-size bed or two twin beds, private bathroom with luxury toiletries and all modern amenities such as air conditioning, flat-screen TV and minibar.
More services and amenities at your hotel near the Palau de la Música
At Musik Boutique Hotel our main goal is to make you feel comfortable and enjoy a unique experience in Barcelona, where you have all the luxuries at your fingertips. That's why, in addition to spacious and comfortable rooms, we also offer a range of services so that you can relax and take this trip as an unforgettable adventure.
Welcome bottle of champagne
If you book your room through our website, we will give you a bottle of cava as a welcome gift, so that you arrive in the city on the right foot, tasting one of its exquisite drinks par excellence.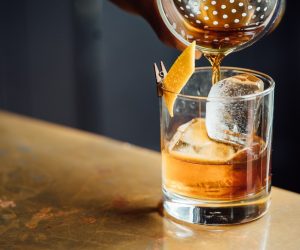 There is nothing better, after a long day visiting the city or listening to a play at the Palau de la Música, than arriving at your hotel and having a nice drink. In our bar, with a very quiet and luxurious atmosphere, you can have a cocktail or a soft drink before going up to your room.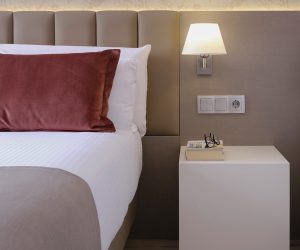 Enjoy your own music in the hotel, choosing the piped music in your room. With the room's integrated loudspeaker system you can play your favourite songs to put you in the best mood during your days off.
What is the address of Musik Boutique Hotel?
The Musik Boutique Hotel is located at C/ de Sant Pere Més Baix, 62, in the El Born district of Barcelona, Spain. As you can see, it is a hotel near Barcelona's Palau de la Música.
Is the hotel close to popular tourist sites?
Yes, in addition to the Palau de la Música Catalana you will be close to many popular tourist sites such as the Barcelona Cathedral, the Picasso Museum and the Parc de la Ciutadella.
Does the hotel offer airport transfer options?
Yes, the Musik Boutique Hotel offers an airport shuttle service for an additional charge. You can request this service directly with the hotel.
Do you offer gift vouchers or is it possible to give a stay as a gift?
If you want to give a romantic stay at Musik Boutique Hotel, either for your partner or for any other person, you just have to put it in the comments section when you make your reservation. If you have any doubts or special requests, you can contact us by email, telephone or by filling in the form.