With landscapes to fall in love with, the most seductive cuisine and jaw-dropping architecture, a romantic getaway in Barcelona has become one of the favourite plans for couples all over the world. But if you want your trip to be perfect, you need accommodation that is as seductive as the city itself. At Musik Boutique Hotel we think about couples and what they need for their trip as lovers. Are you looking for a romantic hotel in Barcelona? Next, we explain why Musik Boutique Hotel is what you are looking for.
Romantic Hotel For Couples in Barcelona
If you want to surprise your partner with a romantic getaway to Barcelona or you are looking for a room for a trip for lovers, you should know that at Musik Boutique Hotel we have rooms designed exclusively to let love flow and help you make the most of your stay in the city.
The most romantic rooms in Musik Boutique Hotel
Romantic hotel rooms in barcelona
Junior Suite: 100% designed for couples
Our Junior Suite is a room designed for couples looking for a romantic stay in Barcelona. In this room, you will find a unique, large and cosy space, with a fully furnished terrace overlooking the neighbourhood and the city. The shower is also large, designed for a relaxing bath with your partner after a long day of sightseeing, and comes fully equipped with all the comforts and personalised service that make Musik Boutique Hotel stand out.If you are a couple looking for a romantic hotel in Barcelona, the Junior Suite will make you live that experience 100%. Allow yourself to fall in love with the charm of the narrow streets of El Born, feel its vibrant atmosphere, taste the best dishes in its restaurants and, at night, relax and enjoy yourselves in this magnificent room in the heart of the city with a fantastic double bed of 160×200 cm.
Deluxe Room: live love in every detail
Just like the Junior Suite, the Deluxe Room is also designed for those looking for a romantic hotel in Barcelona to find everything they need. In this case, with extra details and services designed to surprise you. Deluxe rooms are 20 m², some of them with a large balcony overlooking El Born and Ciutat Vella.  Others have a special stone decoration on the original walls of the building that will make you feel like you are part of the city's history. With their 160×200 cm double beds, large bathroom with bathtub and all the comforts and extra services that come with the deluxe room, you can forget about everything and simply enjoy the city and your love.
Other services and amenities to fan the flame
Complimentary bottle of cava
When you make your reservation through our website, we will give you a bottle of cava as a welcome gift so that you can savour the romance of the city from the very first moment you make your reservation.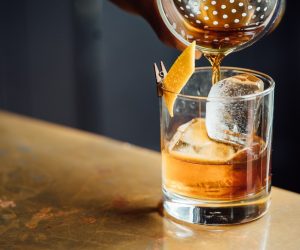 At Musik Boutique Hotel we have an intimate and modern bar for our guests. Here, you can have any cocktail or soft drink you want before going out for dinner or before going to your room.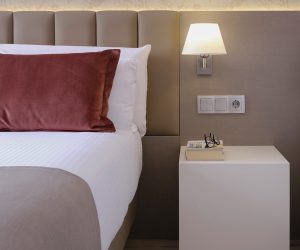 Did you know that at Musik Boutique Hotel you can play the music you want? With our audio dock system you can play your favourite songs throughout the room from your mobile phone.
What makes Musik Boutique Hotel one of the best hotels for couples in Barcelona?
Unlike other hotels, at Musik Boutique Hotel you will find rooms specifically designed for couples, with the services and amenities you need. Our experience backs us up, and year after year we offer new services thanks to our guests' comments that help us to improve.
How much does a romantic hotel in Barcelona cost for this weekend?
Prices vary depending on the availability of the rooms. In the following link you can check how much it costs this weekend knowing that the price you pay from our website will always be the lowest.
Do you have a Romantic Pack for couples?
Yes, if you leave us a comment while booking we will surprise you with very special details at the time of your arrival and we will make your stay as romantic as possible.
Do you offer experiences for couples in Barcelona?
We are at your service at all times. Although we do not offer experiences or tours from the hotel, we do have a wide network of contacts and experiences so we can recommend the best plans according to your preferences and needs.
Do you offer gift vouchers or can I give hotel nights as a present?
If you want to purchase a romantic stay at Musik Boutique Hotel as a gift, either for your partner or for any other person, you only have to let us know in the comments section when you make your reservation. If you have any doubts or special requests, you can contact us by email, telephone or by filling in the form.