El Born, the neighbourhood where Musik Boutique Hotel is located, is one of the focal points of Barcelona's social and cultural life. Traditional restaurants where you can enjoy the classic Barcelona vibe, new and inspiring places with the latest gastronomic trends, cuisines from every corner of the world and some of the best cocktail bars in the city come together in this neighbourhood with a movie-like atmosphere. Among its mediaeval alleyways and some of Barcelona's most representative monuments, El Born is also home to some of the best restaurants in the city. Do you want to make the most of your stay in Barcelona and find out about all the options you have in this fantastic neighbourhood? Let's talk about the best restaurants in El Born, 10 suggestions for all tastes that will certainly enchant you.
Charming restaurants in El Born
Estimar
Barcelona is synonymous with the sea, which is why we needed to add Estimar to our list, where you'll find some of the best fish and seafood dishes in the city. Thanks to Chef Rafa Zafra, who used to work at El Bulli, at Estimar you'll find top-quality products: razor clams, mussels, skate, prawns… All of them are treated to perfection, creating dishes that are authentic delicacies.
The small but charming restaurant is located at number 3, Carrer Sant Antoni dels Sombrerers. Definitely one of the best restaurants in El Born, and one of the recommendations that you should not miss if you have time for it.
El Chigre 1769
Barcelona has always been a welcoming city, where different cultures and origins mix, giving rise to an always surprising mixture. This is what happens in El Chigre 1769, where the gastronomic culture of Barcelona and Asturias blend, giving rise to a spectacular atmosphere, dishes and products worth remembering. Despite being located on one of the sides of Santa María del Mar – which couldn't be more Barcelonian – a glance inside the restaurant will take you straight to the Cantabrian Sea and Asturias. 
Of course, cider is a must on any of the tables at El Chigre 1769. But it is not the only Asturian souvenir of the restaurant: stews, rice dishes and spoon dishes are very present in its tasting menu, as well as all kinds of meats and products from the Cantabrian Sea. But you should not miss out on such typical Barcelona dishes as Bomba de la Barceloneta either. Undoubtedly one of the most charming restaurants in El Born, with a relaxed atmosphere reminiscent of the old taverns.
Can Cisa/ Bar Brutal
In recent years, Barcelona in general and El Born in particular, has seen a revival of the old neighbourhood taverns and vermuterías. One of the best examples of this in the neighbourhood is Bar Brutal.
This establishment was born out of the old Can Cisa tavern, which was remodelled to create this place where you can taste and buy wines and sample some products to liven up the experience. Tins, portions, some stir-fries and even carpaccios or fish are the food you can find in this bistro-brasserie, in its own words, of Mediterranean-inspired cuisine.
7 Portes
As we have already mentioned, El Born is a neighbourhood full of contrasts in which tradition and modernity coexist. And on the side of tradition, one of the greatest exponents is the 7 Portes restaurant, one of the legendary establishments of the neighbourhood and of the city. Located right on the border between El Born and Barceloneta, this restaurant has managed to defy the passage of time and remain on the list of the best restaurants in El Born for decades. At 7 Portes you'll find the typical Catalan dishes that are increasingly hard to find in other places, and you can also try a dessert that was born in this very place, the famous Pijama. Within its walls, where celebrities such as Miró, Evita Perón, Che Guevara and Picasso have been, you can enjoy the true essence and history of the city.
Carballeira
In keeping with tradition, Carballeira is another of the city's classics that could not be missing from this list of the best restaurants in El Born. This restaurant is not only one of the first seafood restaurants in Barcelona, it is also one of its greatest exponents, having been able to maintain a very high standard since 1944. If you are looking for a place with attentive and professional service, this is the place for you. At Carballeira you will be able to enjoy the "lifelong" experience, with top quality products from the best fish markets in the country and a customer service that demonstrates its great track record.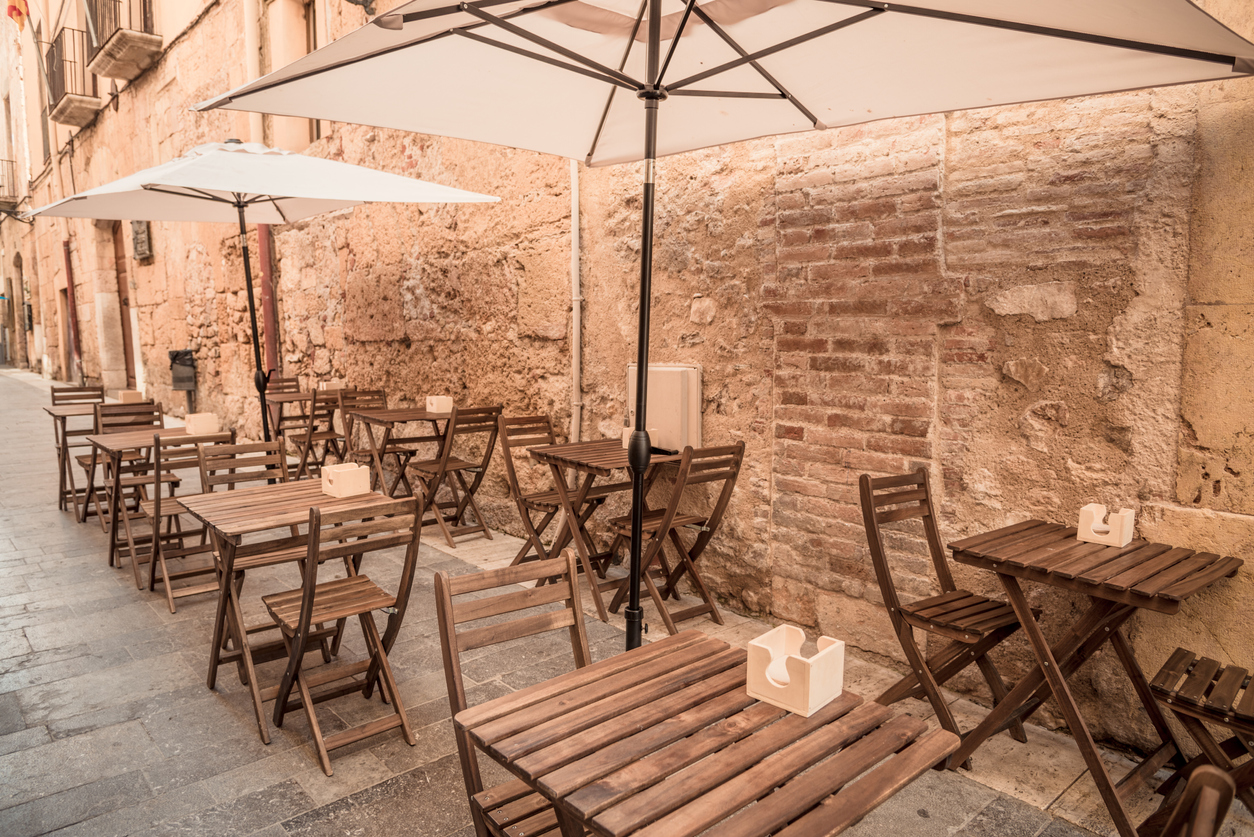 Restaurants in El Born with an outdoor terrace
For those who love the outdoors and enjoying a good meal on a terrace, El Born has some fantastic options that we have compiled in the following list of restaurants in El Born with terrace.
Tantarantana
Tantarantana was the first restaurant of the San Telmo Group, a sign of reliability and good food in Barcelona. Located in El Born, close to La Ribera neighbourhood, in this restaurant you will find a market cuisine that will allow you to enjoy Mediterranean products. If this is your first time in Barcelona, you can't miss out on some of the dishes on the menu, a real introduction to the flavours of Catalonia: fricandó,  croqueta de rostit, artichoke confit… 
Ikibana
As we have already said, Barcelona is a city where many cultures intertwine. And in addition to traditional restaurants, there is also a place for great restaurants with flavours from all over the world. Ikibana is one of the best restaurants in El Born with a terrace, but it is also one of the best Japanese restaurants in the city. This place (Ikibana Born, because there is also another one in Paral·lel), offers a gastronomic fusion between Japanese and Brazilian food, resulting in tasty and original recipes. But beyond the food, it is worth highlighting the originality of its outdoor terrace, decorated with a wide variety of plants and extensive vegetation that make it a unique place in the city.
Calabrasa
Another of the neighbourhood's legendary restaurants that deserves a place in this compendium of the best restaurants in the Born is Calabrasa, which, as its name suggests, specialises in charcoal-grilled food. Whether it's meat, seafood, fish or even cheesecake, fire and charcoal are the real stars of this timeless restaurant. Calabrasa has a large terrace, so you can enjoy its delicacies while you're in a vibrant part of the Born. 
El Xampanyet
Obviously we mustn't forget El Xampanyet, the renowned bar in El Born that still retains all the charm and personality of the Barcelona of yesteryear. What used to be Ca l'Esteve, and which has been around since it opened in 1929, is the perfect place to have a drink, some tapas and a glass of wine to accompany it all. The place is small, so many of the people who visit it congregate at the door to taste the delicacies of El Xampanyet. It is important to know two things before deciding to visit: on the one hand, they do not accept reservations, so the first to arrive will be able to choose the best place. On the other hand, it has become one of the neighbourhood's hot spots, making it a fashionable place. This speaks highly of its service, but it can make it difficult to find a table depending on the time of day you go.